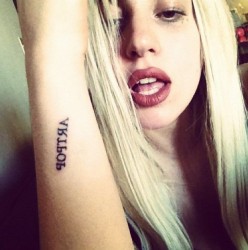 'Paper Gangsta' hitmaker Lady Gaga has announced some details about her new album, including that fact that it will be sold in app format.
In a note on the Little Monsters website using lots of caps lock, she said, "I'm excited to tell you all that ARTPOP is going to be a mul­ti­me­dia exper­i­ence that comes in different forms. The most major way to fully immerse yourself in ARTPOP is through the APP."
The album will come in iPad, iPhone, and other computer formats and will include "chats, films for every song, extra music, content, gaga inspired games, fashion updates, magazines, and more still in the works". She went on to tell everyone to "start asking for IPADS FOR XMAS!!"
So inspir­a­tional.
For those worried, the record will also be released phys­ic­ally and digitally.