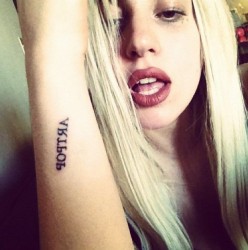 Lady Gaga has confirmed that her new "album/project" is indeed called 'ARTPOP'.
Late last week the 'Marry The Night' hitmaker tweeted "new album, new ink" with a picture of her arm and a tattoo saying ARTPOP. This caused a reas­on­able amount of spec­u­la­tion as to whether that was the title of her new album and it turns out it is.
"Make sure when writing about my new album/project ARTPOP that you CAPITALIZE the title," she tweeted. "*its all in the details* good morning twitter!"
IT'S.
She also announced the first set of dates for the Latin America leg of the Born This Way Ball, which you can see here.