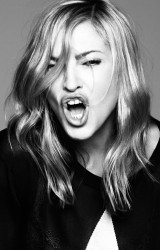 The great and the good have been tweeting their excite­ment about Madonna's forth­com­ing Super Bowl half-time 'extra­vag­anza'.
Though taking care not to mention Madonna by name, Lady Gaga tweeted "Looking forward to seeing the Superbowl! The halftime show will be wonderful I'm sure. An excuse to drink beer+watch boys in tights. #yes".
Britney posted: "I'll obviously be tuning in to watch Madonna and @NickiMinaj tear it up during halftime. Super excited.….".
Prolific tweeter of nonsense Cher had this to say: "Hell yes ! LOVE IT ! Madge Is "GREAT fkng PERFORMER."
Cheers Cher.
All the well wishes didn't go unnoticed at MDNAHQ. Guy Oseary sent a string of tweets thanking the popstars all hasht­agged with "#goodvibes".
#goodvibes.