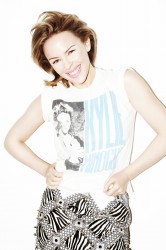 Kylie wants to make it clear that, like everyone, she has moments where she's just not that happy to be honest.
"No one's shiny and happy all the time," she told Total Film magazine (as quoted here) in an interview to promote some arty new film. "There are other sides of me that an exper­i­ence like this has allowed me to explore."
"My persona is 'Kylie'," 'Kylie' continued. "As soon as I step out of my house I have that pro­jec­tion of me. But that isn't neces­sar­ily who I am. What face do I show?"
Well the one around the 'Fever' era was quite good.