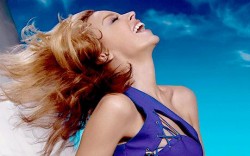 Kylie Minogue will headline the BBC's Proms in the Park thing on September 8.
The 'gig' (billed as a "Last Night of the Proms spec­tac­u­lar") takes place in London's Hyde Park and also features per­form­ances from Alfie Boe, singing statues Il Divo and, of course, Björn Again.
"I'm delighted to be per­form­ing at one of the UK's most out­stand­ing nights of the musical calendar," Kylie told a press release, "and to sing in front of thousands of people whilst being accom­pan­ied by the legendary BBC Concert Orchestra in such a special year is truly a dream come true."
Probably leave the poppers at home for this one.