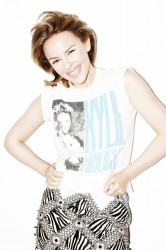 Above average singer of song Kylie Minogue will be awarded a special 25th Anniversary honour at next week's Nordoff Robbins O2 Silver Clef awards, it's been announced.
Talking to a press release the 'Timebomb' hitmaker said: "I am thrilled and honoured to be receiving the 25th Anniversary O2 Silver Clef Award from Nordoff Robbins. The work that Nordoff Robbins does, using music therapy to transform the lives of vul­ner­able children and adults is amazing."
"This will be a special event and I am delighted to be able to attend and reunite with many friends too," she added.
David Munns, Chairman of the Nordoff Robbins charity, had this to say about it all: "Kylie Minogue is a legend and also an inter­na­tional treasure! Her success across the music industry has been meteoric from the start and she is the obvious choice for our unique 25th Anniversary O2 Silver Clef Award."
The ceremony takes place on Friday June 29 at the London Hilton. Other guests on the night include Jessie J, Michael Bublé, Emilé Sande, Tinie Tempah and Conor Maynard.
Sounds quite jolly doesn't it?