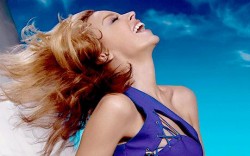 Dannii Minogue's sister has confirmed that her new album is "almost ready".
According to Digital Spy, Kylie confirmed the new album at the labor­i­ously-titled Logo NewNowNext Awards in LA over the weekend.
Kylie also discussed rumours she's planning to take an extended break after the new release. Speaking backstage at the event, she said: "I didn't ever really consider giving up com­pletely, but I was kind of seduced into going back to the acting world."
"But music brought me back and I'm so happy," she continued. "It's just been a very different exper­i­ence recording here in Los Angeles."
Kylie was attending the event in order to accept the award for 'Dancefloor Hero', which let's be honest is quite an accolade.