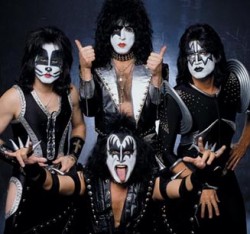 Fresh from 'dissing' Rihanna earlier in the week, Kiss bassist Gene Simmons has now said something a bit pissy about Madonna.
Referring to Madonna's 2008 Rock and Roll Hall Of Fame induction, Simmons berated the organ­isa­tion as being "a joke" for its missing inductees over the years, which obviously includes Kiss themselves.
During a press con­fer­ence, as reported by Ace Showbiz, the 'Modern Day Delilah' hitmaker said: "In all ser­i­ous­ness for the fans, for something to be called Rock and Roll Hall of Fame is such an insult to Madonna, Blondie and Tone Loc. Who the fuck knows what other disco act is in there? It's an insult to them because they don't get to be in the 'Dance Hall of Fame,' because that's what they do."
"They're legit­im­ate dance, disco artists. They don't belong in rock and roll," he continued, while dressed like a S&M badger.