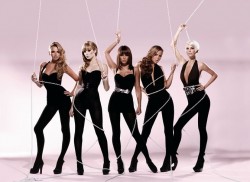 Kimberley Walsh has said that Girls Aloud will probably never split up and may well just go the "Take That way" and keep having breaks to do solo stuff and then get back together.
"I don't think we're ever going to split up," Kimbo mused to BBC Newsbeat. "I don't think any of us know what's going to happen after the tour. That's as far as we've planned for now."
Asked about the fact that most of the rumours of them splitting after the tour stem from a paragraph in Cheryl's book where it says they're splitting after the tour, she said:
"Cheryl wrote the book a long time ago. She obviously wrote it before any of the music, before we had anything in place."
She then basically said their success means they can have a break for ages and get everyone back together as and when they want to really.
"We're in a really priv­ileged position where we can be like, 'Let's do that for while, let's do that for while'," she explained. "It's the Take That way — it works really well."