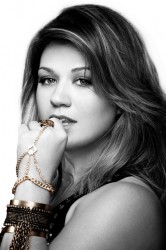 Following in the famous footsteps of Beyoncé, Whitney Houston and The Legendary Barry Manilow, Kelly Clarkson is set to take on 'The Star Spangled Banner' at this year's Super Bowl.
The 'Don't Waste Your Time' hitmaker teased fans with the news when she retweeted a link to a report con­firm­ing her appear­ance at the Super Bowl XLVI.
Clarkson will no doubt be hoping to fare better than Christina Aguilera, who famously fluffed the lyrics to the anthem like a right old twat when she performed last year.
Also per­form­ing at the event on February 5 is Madonna, who is expected to debut her new single 'Give Me All Your Love'.