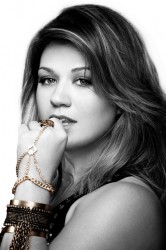 'The Star Spangled Banner' hitmaker Kelly Clarkson has revealed she used an autocue to insure against any Christina Aguilera-style mishaps at her recent Super Bowl performance.
Speaking about Aguilera's 'inter­pret­a­tion', she said: "I told my manager, 'People are killing her! Just have [the lyrics] up somewhere on video, we'll make it look like it's for the crowd'."
The prompter nearly backfired however. "I'd sing the line and it would come up with a delay," she told Q100 radio, so "I had my eyes shut the whole time".
She really made the song her own.