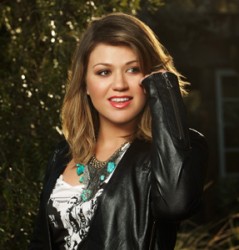 Kelly Clarkson has confirmed that the Greg Kurstin-produced amazea­thon 'Dark Side' will be the next single from current album 'Stronger'.
In an interview with MTV Canada, Miss Clarkson was asked to confirm rumours that 'Dark Side' had been decided on, to which she responded: "Yeah, that's the next one."
She also discussed the upcoming video for the song: "I did come up with a pretty cool [idea]. I don't want to give it away. I'm excited. It's going to be different than you probably think."
We're thinking camels. Let's hope it's not different to that, we like camels.