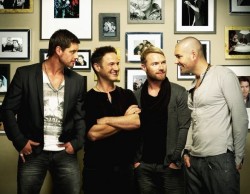 Don't worry everyone, Boyzone will be back next year with a new album and tour.
During a chat with The Sun, the band's driving force Keith Duffy said: "We've plans in place for a tour and an album next year for the 20th anniversary — that's if people want to come and see us!"
Well why wouldn't they Keith, espe­cially as you seem to be so enthu­si­astic about it all.
"We've a very loyal fanbase that always come in their thousands," he continued. "It's a nice set-up. We never broke up, so we can take time out to do our own thing, and then get back together when it suits."
'When it suits'. (When the roof needs fixing.)