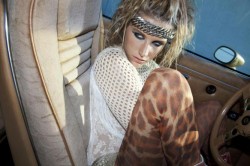 Ke$ha's next album will appar­ently show a more vul­ner­able side.
Speaking to MTV, she claimed that while 'Animal' was influ­enced by the Beastie Boys' 'Licensed To Ill' and was "very brash and very sassy and very unapo­lo­getic and irrev­er­ent", the next one would show off some hidden vul­ner­ab­il­ity.
"I very much want to be seen as a strong woman, but I realize that vul­ner­ab­il­ity can also be a strength," she said. "So on my next record, you are going to hear probably a little more of that. I'm not going to make an acoustic, sad entire record."
Apparently this bout of intro­spec­tion came after she covered a Bob Dylan song for a charity album, but don't expect the forth­com­ing material to be acoustic. "I feel like I don't neces­sar­ily agree, but people say that rock and roll is dead, and it is my mission and my goal to resurrect it in the form of my pop music," she declared.
"That's the goal. We'll see what happens. That's a very ambitious and lofty goal, but that's my goal."