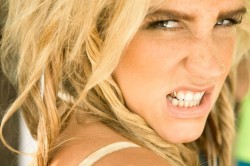 'Party At A Rich Dude's House' chanteuse Ke$ha's explained how her new album 'Warrior' was influ­enced by her time rehab­il­it­at­ing baby lions in Africa.
Chatting away to your friend and ours Ryan Seacrest on his radio show (as quoted here), she went into some detail about her "spirit journey".
"The theme of this record is magic," she explained. "I went on a spirit journey by myself. No security guard. No managers. I just went around the world and lived on a boat."
"I was in Africa rehab­il­it­at­ing baby lions. I went diving with great white sharks, and just went on this crazy spirit quest," she continued. "I got hyp­not­ised, and I just really wanted this record to be really positive, really raw, really vul­ner­able and about the magic of life."
That's fine, but is there anything as cerebral as 'Blah Blah Blah' on there? No, we imagine not.