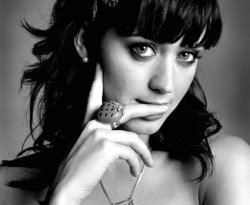 Katy Perry's 'The One That Got Away' is currently retailing on US iTunes at a dis­coun­ted price of 69 cents, con­firm­ing the 'rumours' that she's pretty keen to bag a record sixth US Number One single from her 'Teenage Dream' album.
As reported by Billboard, with every other single currently being sold for $1.29, Perry's is the only one running at just under half price.
The offer precedes Perry's hosting stint on Saturday Night Live this weekend and should help push the single up the US Billboard chart (it's currently at Number 9 on the Hot 100).
If Perry is suc­cess­ful — and we imagine a swiftly cobbled together remix might emerge at some point should it look to be failing — then she'll become the first ever artist to have six Number One singles from one album.
Perry is currently tied with Michael Jackson for the record after 'California Gurls', 'Teenage Dream', 'Firework', 'ET' and 'Last Friday Night' all 'topped the chart'.