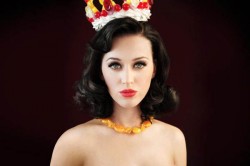 Katy Perry would quite like her career to emulate Madonna's if at all possible thanks.
At pains to point out that it's the beginning bit of Madonna's career she'd like to replicate, the 'If You Can Afford Me' chanteuse told L'Uomo Vogue (as quoted here): "I think Madonna, espe­cially in the beginning of her career when she was laying the found­a­tion, was evolving every single time and giving a new visual and a new idea to the public."
"She kept everybody inter­ested because you never knew what she was going to do next, but whatever she delivered was a solid product," she continued. "I just hope to be the same. I hope to con­tinu­ally make people inter­ested and hopefully in 10 years look back and have written songs that have become timeless."
She also said that her next album will be "much darker" than 'Teenage Dream' and that we'll "discover another part" of her, which is good to know.