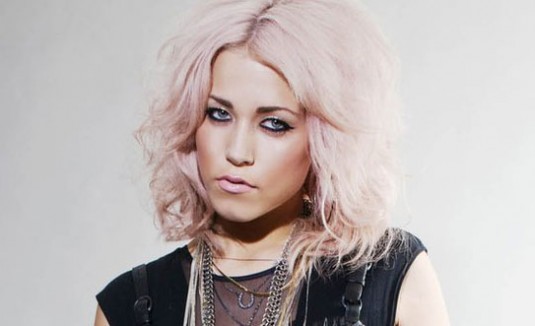 It's called 'You Bring Me Joy'. And it's out at the end of the month after this one. (There is more release inform­a­tion here.)
It's brilliant. It's obviously brilliant the first time you hear it and increas­ingly brilliant over the sub­sequent twenty or thirty listens.
It's three minutes and fifty seconds long.
Xenomania did it.
It's not a ballad.
In fact it's 128 BPM. Other songs that are 128bpm include 'I Feel Love', 'Acceptable In The 80s', 'Not A Sinner Nor A Saint' and '7 Ways', which are all solid gold pop belters.
When we first heard that Amelia was being signed to Xenomania's new label with Sony we were worried it would be a bit like the first Gabriella Cilmi album with lots of ser­i­ous­ness and that sort of thing. You can sort of picture her as a slightly Pink-esque, Avrilly, here-comes-the-2002-revival kind of artist, can't you? Well we were wrong. We were very wrong indeed readers, and the first time we heard 'You Bring Me Joy' we got very excited indeed. She makes pop music.
Amelia's voice sounds great.
It's a danceable elec­tronic pop record, but not in the 'EDM' sense and not in the LMFAO sense.
It's also a dance track whose lyrics aren't about dancing or being in a nitespot, and you don't get many of those 'to the pound'. Lyrically it starts off with Amelia "…thinking 'bout, all the things I'm searching for — twenty years from now, boy we could have done it all". There's a big lift into the chorus where Amelia sings something like "you bring me joy, you bring me sadness, so you bring the love, so forget all the madness / I'm done with all the pain, I'm done with all the hap­pen­ings, so you bring me joy, yeah you bring me sadness". (We might have got those songwords wrong so don't all go mental if they turn out to be something else.)
Just as the general feel of the song is straight­for­ward, so the pro­duc­tion and structure swerves big posturing set-pieces: there's no enormous synth riff, there's no dubstep breakdown, there's no "oh-oh-oh" lyrical bit. It doesn't try to sound like a Calvin song or a Dr Luke song. The quick and easy cheap tricks are left out. What remains is a very elegant take on the modern pop song. It's quite dignified, in a funny sort of way. It just feels very fluid and natural, and it works bril­liantly with Amelia's vocals.
It's got a little bit of the 'Toca's Miracle's about it, although the more we listen to it, the less we hear that, so we might have imagined it all.
There's an amazing "YOU YOU YOU YOU YOU YOU YOU YOU YOU YOU YOU YOU YOU YOU YOU YOU YOU YOU YOU YOU YOU YOU YOU YOU YOU YOU YOU YOU YOU YOU YOU YOU" bit in the second post-chorus bit. We have a horrible feeling this is the bit that will be cut by Kiss FM as they try to get the length down but fear not: it reappears in the song's closing moments.
Actually we need to break some bad news to you on the topic of the song's 'big finish': 'You Bring Me Love' ends not with a bang, but with a fade. :(
It's not a big ridicu­lous kitchen sink sort of Xenomania song, but if you're looking for a com­par­ison with a Girls Aloud tune (as if you're not) we'd mention its 'Call The Shots'-esque propuls­ive energy, with a bit of 'Close To Love' rave action thrown in. That's more a vibe thing, but one of the qualities it does def­in­itely share with Girls Aloud's best songs is that you can tell it's not for children and it's not for grownups. It just exists as a thing that's pop.
And that's one of the most inter­est­ing things about 'You Bring Me Joy', and its role as the launch single for an X Factor star. It's not a big 'statement' song like so many other debuts from X Factor graduates, many of which are brilliant in their own ways but didn't really leave much room for manoeuvre in terms of target audience. "Not your average X Factor song!" is such a cliché now that it's actually less obvious and more inter­est­ing to come out with something that does sound straight­for­ward and honest. And that's what Amelia Lily's single is. It's not trying to be cool. It's not trying to not to be pop. It's proud to be a big pop thing and it's got the airpunch-friendly chorus to prove it.
Popstars we would like to hear record this song: Cher, Cheryl Cole, Kelly Clarkson, The Saturdays, Amelia Lily.
Further reading