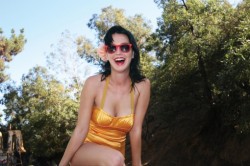 While Lady Gaga is barreling ahead with her crusade to save The Gays and Shakira is juggling popstar com­mit­ments with her role as UNICEF ambas­sador, Katy Perry is happy to concede that her music is not going to change the world.
Speaking to Rolling Stone, she said: "I'm not a dummy. I know 'California Gurls' isn't going to save the world, but I got a lot of heart from my upbring­ing and I put a lot of heart in my songs."
Questioned about negative critical reactions to her music, she responded: "Whenever people ask me about having bad reviews, I'm like, 'Have you seen the run I've had? Have you see the numbers?' Numbers do not lie!"