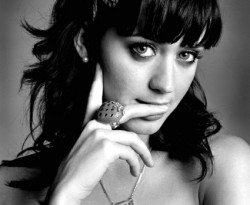 Katy Perry has appar­ently been approached by Harvey Weinstein to star in a Billy Elliot-style movie about the life of Britain's Got Talent winner Paul Potts.
The movie boss spoke to Perry at an Oscars after party about the prospect of playing the wife of the former mobile phone salesman who briefly became world famous after winning the 2007 series of Britain's Got Talent.
Speaking to the New York Post, Weinstein said "I love a challenge", before adding: "I was talking to Katy about a new project, a possible dramatic role in the Paul Potts movie, which will be shooting in England soon. We'd really like someone like Katy or Adele to play the role of Potts' wife, and Katy seemed genuinely interested."
No word on whether nervous confusion was mistaken for genuine interest.
The film, titled One Chance, is set to be helmed by The Devil Wears Prada director David Frankel.