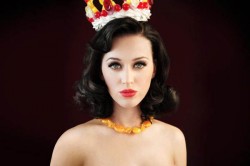 Speaking about the 56th single from 'Teenage Dream', Katy Perry says she feels that 'Wide Awake' is the "perfect last word of me at this moment"
Presumably thinking that it was about time to wrap things up on the longest album campaign of all time, Katy explained to MTV that "it was a song that I hadn't written for 'Teenage Dream'".
Also flogging her upcoming 3D film, she continued: "I was doing this movie and they asked me if I wanted to write an end-title song for the movie and I was like, 'I know exactly what I want to say.' I was really kind of dying to write another song at that point. I didn't want to wait until I did a whole new record."
"I just wanted to tell a story about myself going through this journey, maybe sometimes trying to get out of the maze. There's good parts, there's bad parts. Of course, there have been a lot of things that went on last year that I had to get through and overcome. I think what probably kept me going is just the purity of my belief in music."
The video for 'Wide Awake' will premiere on MTV today.