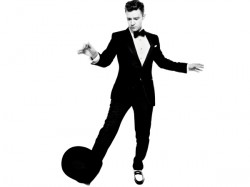 Justin Timberlake has likened the criticism he's received for his music and film work to someone taking a shit on his face.
In an interview with GQ (as quoted here), the 'Take Back The Night' hitmaker singles out Billboard and Variety magazines for their recent cri­ti­cisms of 'The 20/20 Experience' and his latest film Runner, Runner.
"I feel — literally — like a bunch of people just took a shit on my face," he mused.
'Literally'.
He then elab­or­ated slightly:
"You sound like a dickhead… It just shocked me because, like, you're trade magazines. None of your opinions count. And by the way, none of you can do it."
Brilliant!
"I grew up with a little bit of a chip on my shoulder, so sometimes I find it funny that I've been able to acquire the patience it takes to be kind to people in our business," he continued. "Because sometimes I just want to fucking kill everybody."
How charming.