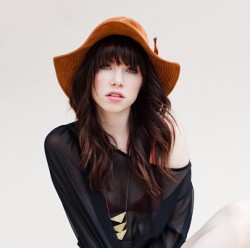 Justin Bieber said he knew he wanted to snap up Carly Rae Jepsen when he heard her on Canadian radio.
Bieber, who recently signed his 2- year-old protégé to Schoolboy Records, recounted the tale on The Ellen Show.
"I was listening to the radio and her song came on. I was listening to it and I was like 'who is this?' and a few of my friends were like 'this is Carly Rae Jepsen'," he told Ellen.
Justin then did his research (Googled) the Canadian Idol runner-up and found "all the stuff she's done and she's really talented". He went on: "Scooter was like 'she's not signed', she was signed to a Canadian [label], and I was like 'she's available', so I signed her."
Speaking about the "mira­cu­lous day Justin called", Carly said she thought it all "seemed too good to be true".