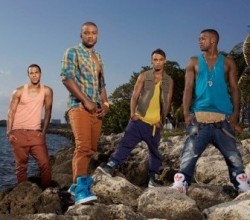 JLS' Marvin Humes has con­grat­u­lated The Wanted and One Direction on their continued US success.
Via the medium of Twitter, 'Marv' praised his fellow X Factor 'alums': "Big congrats to @onedirection for their no1 iTunes album in the US! Amazing stuff lads..little bro's rep­res­ent­ing hard!!! #Proud Marv x."
Graciously, Marvin wasn't for­get­ting The Wanted and told 'the world': "Huge congrats also to @thewantedmusic Glad U Came still riding high in the charts in US and Canada!"
He must be a bit fucked off though, surely?