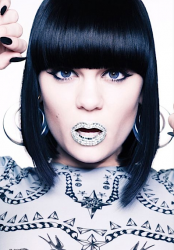 Voice of reason and inter­na­tional symbol of hope Jessie J has been voted the best role model in pop, a Capital FM poll has revealed.
Jessie beat such inspir­a­tional figures as Cher Lloyd, Katy Perry and The Wanted to claim her place atop the Pop Role Model Ladder.
"Her songs tell you how life actually is and teach you what to expect out of it," a fan said. This is a fair point. We'll admit that we too learned a lot from 'Do It Like a Dude'. Well done Jessie J. "She lives life the way she wants to and doesn't let anyone stand in her way," wrote another. Runner-up Lady Gaga paled in com­par­ison, as did third and fourth placers JLS and Beyoncé.
Meanwhile, poor Olly Murs only landed in fifteenth place.
WE DEMAND A RECOUNT.