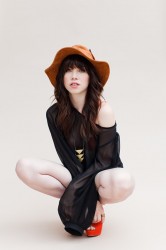 Carly Rae Jepsen's global behemoth 'Call Me Maybe' has been named MTV's Best Song of 2012.
"First of all, wow, thank you so much!" the 'Money N' The Ego' chanteuse gushed when someone from her label told her what had happened.
"I have to thank the two other writers of 'Call Me Maybe,' Josh Ramsay and Tavish Crowe. When we worked on the song together, we were not expecting this year to turn out to be the crazy adventure that it is," she continued.
"Thank you to the fans, my team, my family and MTV — thanks to you!"
You're so welcome Jepo.