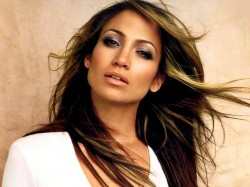 Jennifer Lopez has talked for the first time about the Lady Gaga-penned tracks on her forth­com­ing new album, 'Love?'
In an interview with Rolling Stone, the 'Louboutins' hitmaker revealed that the two "didn't work together face to face" and that "RedOne brought her into the process, because they'd worked together a lot – it was kind of cool. She's a great song­writer: I don't just love her lyrics, but also her melodies".
Lopez also addressed the question mark in the album's title, stating, cryptic­ally, that "if you're married, you know what that question mark is about!"