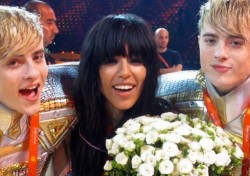 Jedward have all but ruled them­selves out of rep­res­ent­ing Ireland at Eurovision for a third time.
"I think we'll leave it to somebody else to do it next year. We'll leave it to a new artist out there who is undis­covered," declared the twins, stating that they'd only re-enter under pres­id­en­tial decree. "If the President rings us up and says, 'John and Edward, we need you. Seriously we need you guys'. Then we'll think about it."
Jedward already have a few sug­ges­tions of "undis­covered" Irish artists to pass the baton to. "I think Bono should go. Or Robbie Williams," they proffered.
The boys were also philo­soph­ical about their choice to subvert their trademark hairstyle at the final. "I think it was good that me and John intro­duced flat hair," mused Edward to The Mirror. "Because before that it was an under­cur­rent thing, so it's good that so many people saw us with flat hair."
'An under­cur­rent thing'.