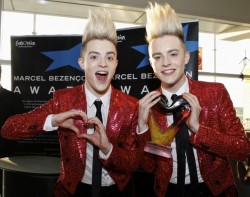 A Marcel Bezecon Award has been given to Ireland's Jedward for their per­form­ance of 'Lipstick' in the 2011 Eurovision Song Contest.
The twins received the Artistic Award, which was voted on by the com­ment­at­ors who have covered the event for the past two years.
Finland's Paradise Oskar was voted by the par­tip­at­ing media to receive the Marcel Bezecon Press Award, for his global warming inspired song 'Da Da Dam'. France's Amaury Vassali, who was the bookies' favourite to win the com­pet­i­tion, received the Composers' Award for best and most original com­posti­tion.
Blue didn't win anything.