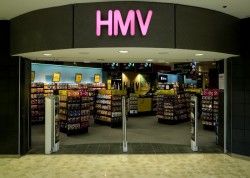 Sky News are reporting that the directors of gift book, DVD, video game and occa­sional music retailer HMV are tonight 'locked in talks' regarding the chain's future.
HMV still runs 230 stores in the UK.
Sky have most of the info, you're better off reading it there.
Well this is a pisser isn't it. We're not ones for finger-pointing but for the time being let's blame Adele for not selling more copies of '21'.
UPDATE, 10:02PM: Music Week are now reporting that HMV has, indeed gone bust.
A statement reads:
On 13 December 2012, [HMV] announced that as a result of current market trading con­di­tions, the Company faced material uncer­tain­ties and that it was probable that the Group would not comply with its banking covenants at the end of January 2013. The Company also stated that it was in dis­cus­sions with its banks.

Since that date, the Company has continued the dis­cus­sions with its banks and other key stake­hold­ers to remedy the imminent covenant breach. However, the Board regrets to announce…
It goes on a bit to be honest and is pretty light on LOLs. The full thing's over on Music Week.