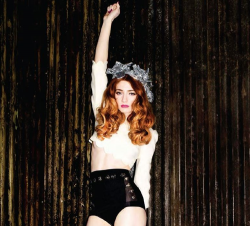 Nicola Roberts enjoyed working with Diplo and Metronomy so much it brings her to tears even to this day.
When asked about the sig­nic­ance of com­mer­ical success in regards to her own sat­is­fac­tion with the 'creative process', Nicola told Notion magazine: "If I was worried about com­mer­cial success I wouldn't have worked with Diplo or Metronomy. This is the most amazing exper­i­ence". At this point a handy editor's note informs us that "her eyes begin to fill with tears". Why? Because she's Nicola Roberts and she is amazing, and this is enough to make anyone cry tears of joy.
"Working with Joseph from Metronomy — he's so talented" she continued. "I'm such a fan of Diplo too and for him to come on board and help me… I'm having to pinch myself. Just to have a record that I can put my hand on my heart and say I own for the rest of my life is such a massive deal to me." Oh, Nicola.
'Lucky Day' is available to download from September 18.