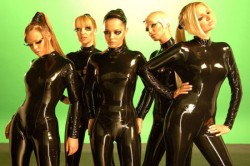 DJ Fresh has been talking about recording with Girls Aloud.
Chatting to the Daily Star Playlist, the 'Funk Academy' hitmaker said: "I've been working with Girls Aloud recently. I can't really talk much about it yet because it's early days but I can say we've been in the studio together."
That's literally it.
EDIT: Except that's not 'literally it' at all because it turns out that it is just Nicola who has been recording with Fresho.
Although saying 'just Nicola' is like saying 'just landing a vehicle on Mars and taking some snaps' or 'just strolling along the Great Wall of China' or 'just organ­ising a two-week-long sports event in east London'.
We suppose the confusion has arisen because DJ Fresh, like many of us, accepts that Nicola 'is' Girls Aloud. We wonder what all this means?
1. Nicola's been there ahead of the rest of the girls?
2. Nicola's recording her second solo album?
3. Nicola's recording vocals for a DJ Fresh album?
This is like three based-on-not-very-much news stories in one!