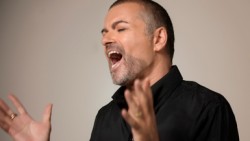 'Shoot The Dog' hitmaker George Michael has confirmed that he'll be taking part in the Olympic closing ceremony 'extra­vag­anza' on Sunday.
"Hey everyone, how are you," he asked (without using a question mark) on Twitter earlier. "Spending most of the next week rehears­ing like crazy for the Olympic closing ceremony.…."
He then went on to sum up his mixed emotions about it all: "Obviously a bit nervous not having played for nearly a year, but rehears­als sounding great so far!"
Having received a barrage of tweets from people going 'Isn't it meant to be a massive secret?', he added: "Oh, and , secret? It's been all over the press for weeks, and I think you alll needed to be put out of your misery!"
Bit harsh, but there you are.