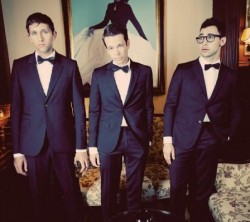 Full-time LOLsters Fun. are trying not to let their status as the only rock band left on the planet affect them.
Talking to BBC Newsbeat about their rock cre­den­tials, the band's guitarist Jack Antonoff explained: "It's our favourite genre of music and we still think it's the hippest even though it goes through changes and gets messed around."
'Hippest'.
Frontman Nate Reuss added: "We just hope we can help carry a torch. We try not to let it affect us in any sort of way."
Asked about who they'd most like to col­lab­or­ate with as the last remaining rock band, Reuss replied: "Kanye [West] would pretty much be the one. Just con­tinu­ing to move forward, I think someone like Skrillex is someone we couldn't deny in any sort of way."
"I think it would work. Whether he's rock 'n' roll or not he's someone who is helping make another style and another form of art."
Blimey, imagine that.