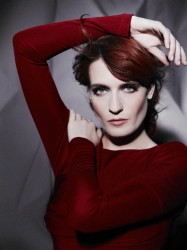 Florence + The Machine has agreed to judge a gate design talent contest.
'Flo' has signed up to preside over a selection panel for Hop Farm's Create The Gate com­pet­i­tion. Apparently it is an actual thing.
The organ­isers stress that contest is open to all and that no past gate design exper­i­ence is necessary. "Even your gran could enter!" they suggested.
Meanwhile the newly crowned Paula Abdul of port­cullises Welsh enthused: "It's a great com­ple­tion and I'm excited to see the designs."
The winning entrant with see their entrance installed on site for the Hop Farm festival in Kent from June 29 — July 1.