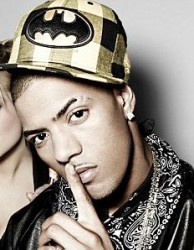 Fazer says he is hoping to work with some "unex­pec­ted" artists on his forth­com­ing debut album "if he gets any collaborations".
He listed his dream duets to MTV as "people like Muse, Adam Levine from Maroon 5 or Sting from The Police — something crazy".
Having already appeared on tracks with "the best of the UK" Chipmunk and Tinchy Styrder, Fazer is looking to do something out of the ordinary on his own record that "showcases my talent, not just as a rapper but as an artist and an all round musician".
All three N‑Dubz members plan to release solo albums this year with Dappy's due in April and Tulisa's currently being recorded in LA.
Let's hope they don't all feature fucking Sting.