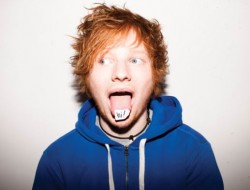 Ed Sheeran felt like a "stud" when people thought he was having sexual inter­course with Taylor Swift.
The 'Autumn Leaves' hitmaker admitted this very thing recently, noting: "I did go to her hotel [!], I did leave with the same clothes [!!], but I was playing her my new record."
Oh.
"We sat down and passed the guitar back and forth [!!!!] and played songs to each other. I'm a pro­fes­sional. It's not a situation where I have to bang every girl I meet."
That or she turned him down 'LOL'.
"My mates believed it and they were texting me asking if it was true. The fact people can believe it makes me feel like a stud."
The power of thought there ladies and gents.