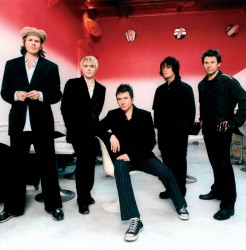 Duran Duran have been offering One Direction advice on staying popular in America.
"Stick with it I think," Roger Taylor told the BBC. "The great thing about America is that once they get you they really get you."
Simon Le Bon's advice meanwhile was obviously aimed at band leader and acoustic guitar botherer Niall Horan. "I think that with any band that comes out of something like The X Factor, or any of those shows on TV, it's very important for those acts not to just be putty in the hands of the producers," he said.
"If you're going to have any future you've got to take respons­ib­il­ity for your material."
He also talked about why the band didn't play at Gary Barlow's Jubilee shindig.
"We weren't asked," he explained.