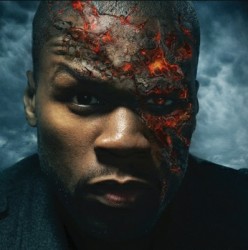 Notorious rainbow flag bearer 50 Cent is all for The Gays.
"If you a man and your over 25 and you don't eat pu**y just kill your self damn it. The world will be a better place. Lol," he tweeted in 2010. However, Mr Cent doesn't think gays should kill them­selves anymore because Obama said it was alright.
"I'm cool," he told Hot 97 radio when asked about the issue. "I would like people to actually be happy."
"The Bible that they would read to marry you, it doesn't have anything in it that says same-sex. If it does, then I would like someone to point out that inter­pret­a­tion," remarked 50, who must have just skimmed Leviticus at Bible school.
"I've encour­aged same-sex activ­it­ies," he confessed to the world, pre­sum­ably referring to paying women to 'lez off' in front of him but who knows. "I've engaged in fetish areas [?!?] a couple times. I'm for it."
You'll still be the same 50 to us, Curtis. This doesn't change anything.