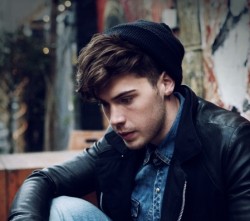 Wagner, Matt Cardle and Danyl Johnson are Intense Troubadour Aiden Grimshaw's favourite X Factor con­test­ants of all time.
That's an Overs category from hell isn't it viewers.
Asked about his favour­ites, he told Gigwise that he "quite liked" Wagner 'It's Vagner, Louis' Wagner, describ­ing him as "cool". Grimmo mentioned that he was also a fan of Danyl 'friend to Lloyd Daniels' Johnson. "I'd probably go for Danyl Johnson for a little bit," he said. "But everyone started hating him."
From his own year, Aiden stumped for old Credibility Chords himself. "There were some really cool people on that year," he said, "like Matt Cardle. I don't think I could have picked someone better than him to share a beer with and just say 'this is fucking mental, isn't it?'"
The 'Mad World' hitmaker gave hon­our­able mention to "the woman who got to bootcamp in my year, I forget her name [Goldie?], she was Chinese. I remember being sat there and she was just rolling around on the floor and I saw her whole vaginal area. I think I was sat next to Zayn from One Direction at the time."
Amazing.