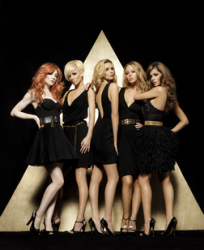 Having tweeted about wanting to get in touch with the Spice Girls yesterday, it turns out Diplo would also quite like to work with Girls Aloud too.
Chatting to the Daily Star Playlist about all the famous people he's been working with of late, thoughts turned to Nicola Roberts and his work on 'Beat Of My Drum'.
"I didn't really know who Nicola was," Diplo began, "but she impressed me with how artistic she is. I'd be inter­ested in working with her group."
'Her group'. Amazing.
He also talked about working on some new "elec­tronic" stuff with Tinie Tempah: "Rather than go through his man­age­ment, Tinie reached out to me directly, which I really respected."
"We've been going back and forth on our tracks, but they sound in the vein of the rap stuff I've pre­vi­ously produced – hard and heavy and electronic."
So now you know.