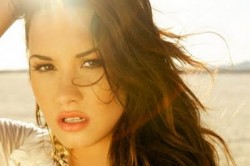 Demi Lovato has been talking about her friend­ship with fellow Disney graduates turned popstars, Miley Cyrus and Selena Gomez.
Talking to Seventeen magazine (and quoted by andPOP) she said that her rela­tion­ship with Cyrus was the stormier of the two, com­ment­ing: "[Miley Cyrus and I] are very strong-headed, so when we fight, it's brutal and we're like, 'We're never going to be friends again!' Then two days later, we're like, 'I love you and I miss you!'"
With Gomez it's all a little more sedate. "Selena [Gomez] and I, we never fight," Lovato said. "She's not a con­front­a­tional person at all."
Idolator are also reporting that the interview for the American teen magazine also touched on her recent addiction problems. "I was self-med­ic­at­ing," she said. "I was doing things like drinking and using, like a lot of teens do to numb their pain."