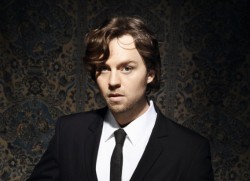 Darren Hayes will re-release his 'under­ap­pre­ci­ated' latest album 'Secret Codes And Battleships' later this year, in a new package which will include at least two new tracks.
In an interview with gossip site DigitalSpy, the 'Two Beds And A Coffee Machine' hitmaker confirmed that he has been working with the incred­ible Swedish producer Carl Falk, whose recent 'knob-twiddling' credits include 'Don't Hold Your Breath' and 'Starships'.
"There's a track I did with Carl Falk that I've kept back in a Katy Perry 'Part of Me' sense," Darren said.
But that's not all — 'A Whole New World' hitmaker Walter Afanasieff is also involved: "I did a song for the album called 'Roses' with Walter A," Hayeso says, "and we recorded at least one other song that is fucking amazing!"
No release date for the 'Secret Codes And Battleships' reissue has yet been confirmed.