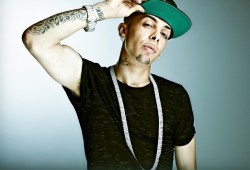 Happy-go-lucky popstar Dappy has revealed the title for his debut solo 'effort'.
The album, released in September, will bear the title 'Bad Intentions'. No word yet from Dappy on what these so-called bad inten­tions are, but the album will be "very con­tro­ver­sial", he told celebrity website Digital spy backstage at T4 on the beach.
How so?
Well: "It's very con­tro­ver­sial and there's a lot of double meaning in there." Controversially, Dappy revealed that there's a wide selection of sounds on the album that probably everyone will like: "There's most def­in­itely something for everyone on that album. It consists of R&B, hip-hop, ballads, singing just on a piano. The album will be out in September — you'll see it dropping everywhere."
Well this is certainly something to look forward to.