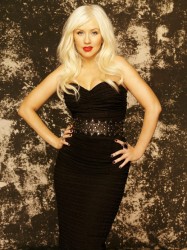 Fear not, Voice coach and 'friend of Maroon 5' Christina Aguilera is still a popstar in her own right.
A Twitter user describ­ing herself as the "Artistic Director, Choreographer, Performance Producer for The Voice" has tent­at­ively told fans that Christina's forth­com­ing fifth proper album is coming soon.
The undoubtedly reliable source tweeted: "Hey guys!! Xtina's album is coming very soon!! I have seen your tweets and know you all are waiting .. Hang tight, it's going to be EPIC!!"
At the start of June, Christina's make up artist told Twitter that the album would make you "shit yourself" — a bold claim, and one which could harm sales.