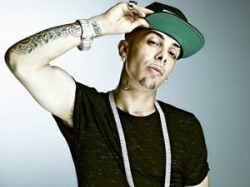 Well-endowed death-threatener Dappy has premiered his new single on BBC 1Xtra. It's called 'Good Intentions' and you can listen to it here.
After giving the ballad its first play, DJ Twin B commented "there's def­in­itely a Dappy sound, init?", which is certainly a dip­lo­matic way of putting it.
The 'I'm Coming (Tarzan Part 2)' hitmaker 'took to Twitter' to explain his emotional con­nec­tion to the confessional:
"Something a little different for ya… Just speaking from the heart… #GoosebumpMusic #GoodIntentions x"
So beautiful.
'Good Intentions' will be released on iTunes on September 23, while Dappy's debut album follows on October 1. It is called, wait for it, 'Bad Intentions'.