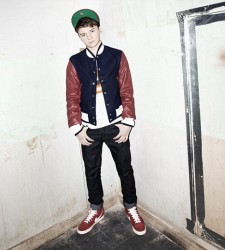 Conor Maynard had to try and control his instinct­ive need to to lick famous people's faces when he first started out in this popstar lark.
Talking to MTV about all the people he's 'col­lab­or­ated' with on his new album — Frank Ocean, Ne-Yo, Pharrell etc etc etc — he said he had problems remem­ber­ing social etiquette when he first met some of them.
"I had to control myself [and] not want to run in there and lick their faces. I had to control that," he said. "I had to be normal at the same time."
He also rattled off a story which we imagine Ne-Yo's getting pretty sick of hearing about how he came to be 'dis­covered' doing covers on cult website YouTube.
"[Ne-Yo] told a story where one of his friends called him [like] 'Yo man, isn't this kid singing 'Beautiful Monster' better than you singing it?'" he explained. "He was a bit like 'Ah, no, I'll check that out.' And he was like 'Oh, damn, this kid does sing better than me.'"
Poor Ne-Yo.