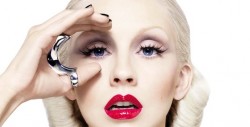 Apparently Christina Aguilera's new album is all about freedom and indeed fun.
"Yes, the single, the album, it's all about just freedom," the lady herself said in an interview with Extra. "You know, I like to take my time in-between my records, just because I like to have something to say, honestly and genuinely."
"It's good fun, [but] it's got its vul­ner­able moments," she continued about the as yet untitled album. "The bottom line is I gear it up a lot of stuff for my fans and newcomers alike, who have seen me through the show [The Voice US]. It's fun. It's going to be really nice to get back to my artistry and have fun with that again."
We wonder if this "artistry" involves making people shit them­selves? Hopefully not.