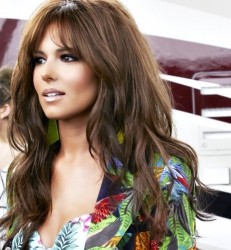 Cheryl 'Cheryl' Cole didn't expect Girls Aloud to take such a bloody long time about getting back together following their 'year-long' break.
"I actually didn't ever think Girls Aloud would be apart for this long," she admitted to the Sunday Mirror. "It's incred­ible that we've been doing this for a decade. I find it amazing what we were able to achieve and just how quickly time has flown."
"Sometimes I look at the band and think we have aged and all grown up, then other times I look at it and it's like nothing has changed at all," she added.
Mind you, in-between having another solo Number One single, a third solo album and an arena tour planned for later in the year, the 'Rain On Me' chanteuse is finally getting back into Girls Aloud 'mode': "I've only just stopped looking for the girls on stage and I'm about to start going back to working with them again."
Yes that's very nice Cheryl, GET ON WITH IT.