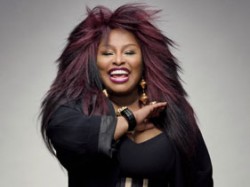 Chaka Khan has cri­ti­cised Clive Davis' pre-Grammys party as "complete insanity".
"Knowing Whitney, I don't believe she would have said 'the show must go on'. She's the kinda woman who would have [said] 'Stop everything. I'm not gonna be there'," Chaka told Piers Morgan.
Khan was due to attend the party along with Britney Spears, Mary J Blige and Alicia Keys. However, on hearing the news, she opted to grieve in private instead, saying: "I don't know what could motivate a person to have a party in the building where the person whose life he had influ­enced so enorm­ously [lay dead]. I don't under­stand how that party went ahead."
The singer revealed that she was also asked to join Jennifer Hudson to sing a tribute to Houston at the Grammys but declined, pre­fer­ring to mourn her friend alone.